Book Review
The story of Louisville's Monarchs
By Scott Coffman • Special to The Courier-Journal • November 7, 2009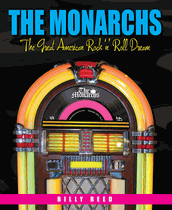 Book review
'The Monarchs: The Great American Rock 'n' Roll Dream'

By Billy Reed
Butler Books
128 pp. plus bonus DVD
$34.95
This book is a complete winner, a fitting celebration of one of Louisville's most enduring institutions. Its colorful dust jacket jukebox cleverly conceals a DVD featuring 26 minutes of rare photographs and footage of the Monarchs over the years, including a performance of their most famous song, "Look Homeward, Angel."
As a non-native of Louisville, I missed out on the "Monarchs" bandwagon until recently. Thankfully, Billy Reed provides a terrific balance of journalistic gravitas and fan-boy fun in a narrative that examines the group and its formation and evolution.
Reed is clearly a friend and supporter, but he tells the band's story from beginning to (non-)end with a sense of integrity, using his always impeccable writing to add depth and suspense to each story.
Moreover, this informative tome truly covers "The Great American Rock 'n' Roll Dream," as author Reed has also told a fascinating history of rock and roll itself, when the Big Band era gave way to new sounds.
From white artists covering black artist's songs (Pat Boone's laughable "Tutti Frutti" comes to mind) to the emergence of Elvis and others, The Monarchs have been right there, recording in the same studios and working with many of the same professionals.
The book commendably evokes this bygone era, when everyone — especially teens — had a different relationship with the radio than today. Sock hops were de rigueur, and local radio was the pantheon of taste and culture, featuring vocal celebrities who spread the gospel of rock to a willing audience.
Across the nation young people in every city with a radio station formed a microcosm of people on two sides of the spectrum: those who loved this new music, and those trying to make it big in the music industry. The members of The Monarchs fell into both categories.
The book gives each member his fair share of coverage, and explains how everyone came together into what became The Monarchs.
Naturally, the 50 years since their founding has seen some of the members retire and some pass away; Reed includes a timeline which charts each member and his years with the band.
Butler Books has truly outdone itself with this one: the jukebox on the dust jacket highlighting the DVD is clever, and the book itself is beautifully arranged with copious photographs and lovingly reproduced memorabilia. All fans of classic rock and roll music — and especially fans of The Monarchs — will get a real thrill when they open these pages.
The stories the band members tell about themselves are truly worth telling, providing insight into the lives and minds of a bunch of kids who set out in search of a dream and ended up getting there, although perhaps not in the way they had envisioned.
They may never have gotten rich or become superstars from their music, but they have certainly enriched local lives for half a century by joyously celebrating this most American of musical styles. Kudos and thanks to each Monarch for sharing his art with us, and also much appreciation to Billy Reed for his terrific work telling their story.
Scott Coffman is a writer, cartoonist and bookseller who lives in Louisville.